Today in this online world, where you most of the people are earning by working online remotely, the one of the most popular way of earning money is Freelancing which you can consider the active as well as passive source of income based on your skills. There are many popular freelance platforms that you can use to earn from freelancing.
Freelancing is working for someone without getting employed so that you can you can work for more than one client at a time. Being employed , you can work for the only client by which you are getting paid but being a freelancer you have an option to work for multiple clients at one time without any issue , it solely depends on your comfortability.
Read More:- How to earn from Instagram meme page? Things to know
If you are capable of handling multiple projects at a time, you can do freelancing at a very good extent. Being a freelancer , you don't have any such criteria that you have to work with one client only. If you have more work , you can hire people and give them the work and the proportion of the payment processed by the client.
Being a freelancer , you just need to deliver the work before the deadline given by the client , it doesn't matter that in which time zone you are working or how many hours you are putting into work. The timings are fully flexible and the payments are made according to the work. You can demand for more money if you are working more and can deliver the work earlier than the deadline given by the client.
5 most popular Freelance platforms are:-
As of 2021, there are a lot of online platforms that are made for the freelancers. You can create an account and upload your details on the profile like how much experience you have , what type of work you can do. You can also upload the details of your previous works if any or you can upload your sample work. Below we have suggested the best 5 of all :-
1. Fiverr

Fiverr is considered as the #1 Freelancing platform where a non experienced freelancer can start its journey and start by working on small projects and then start putting the projects that he has worked on. The sample projects are very important to get work as a freelancer as people pick the freelancer by having a look at the reviews or the previous works that he has worked on.
Must Read:- How to create a website without knowing anything
On Fiverr , you can find the working role according to your skills, either it be technical , non technical or artistic role like if you are good at Singing , you can work with the people out there looking for the singers.
Fiverr also offers some free learning courses so that you can develop your skills and can get to know how you can pitch to clients and start getting project works.
2. Upwork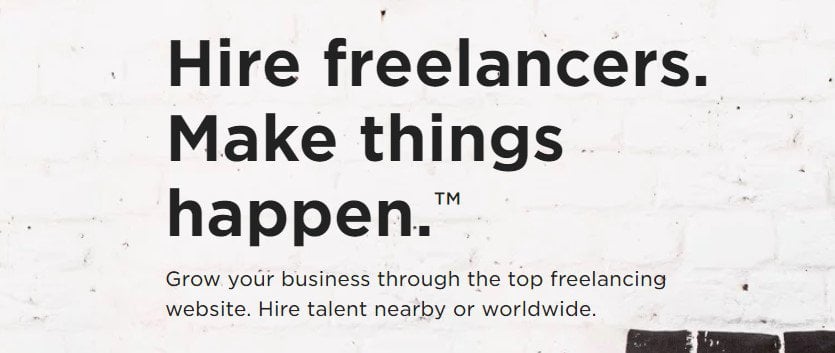 Upwork, considered as #2 freelancer platform, as it offers many tools to start your freelancer journey. The tools include collaborative space , built in invoice maker and transparent recruitment process. There are a lot of projects from the famous clients on Upwork such as Microsoft , Airbnb , Dropbox etc..
Upwork is made solely for the freelancers that are looking flexibility in their work and work timings.
3. Toptal
Here at Toptal , being considered as #3 freelance platform, the top 3% freelancers such as Software developers , designers , finance experts , project managers and product managers are hired by the Top companies for their most important projects . So if a freelancer really has good skills in the work and wants to join a Top company and a great payscale can checkout Toptal and start working as a freelancer on the platform.
4. Simply Hired
SimplyHired being at #4 doesn't completely justify its position as there are a lot of features that it provides solely for the best experience, being able to search freelance jobs in your nearby area is the first and allowing the users to search jobs according to highest paid fee is at the second. There are many other options too where you are able to see the filtered results according to your requirement.
Must Read :- How to start business on your own?
Other feature that it will be providing is that the users will be able to create resume from the website itself and learn many things from their blog regarding how you can pitch the clients to get the work and many other necessary things.
5. PeoplePerHour

PeoplePerHour has been put at the #5 popular Freelance platforms but you can't ignore that this platform has over 1.5 million freelancers that has used the service and each one will be having a rating so that a new client can choose the best option by viewing the ratings and reviews that has been provided to the freelancers and also it is a great promotion for freelancers also.
This platform is free for all freelancers but to overcome the competition that you will be facing , you should always set a reasonable price of the work that needs to be done so you will be more likely to get hired.